The Baginski Scholars Process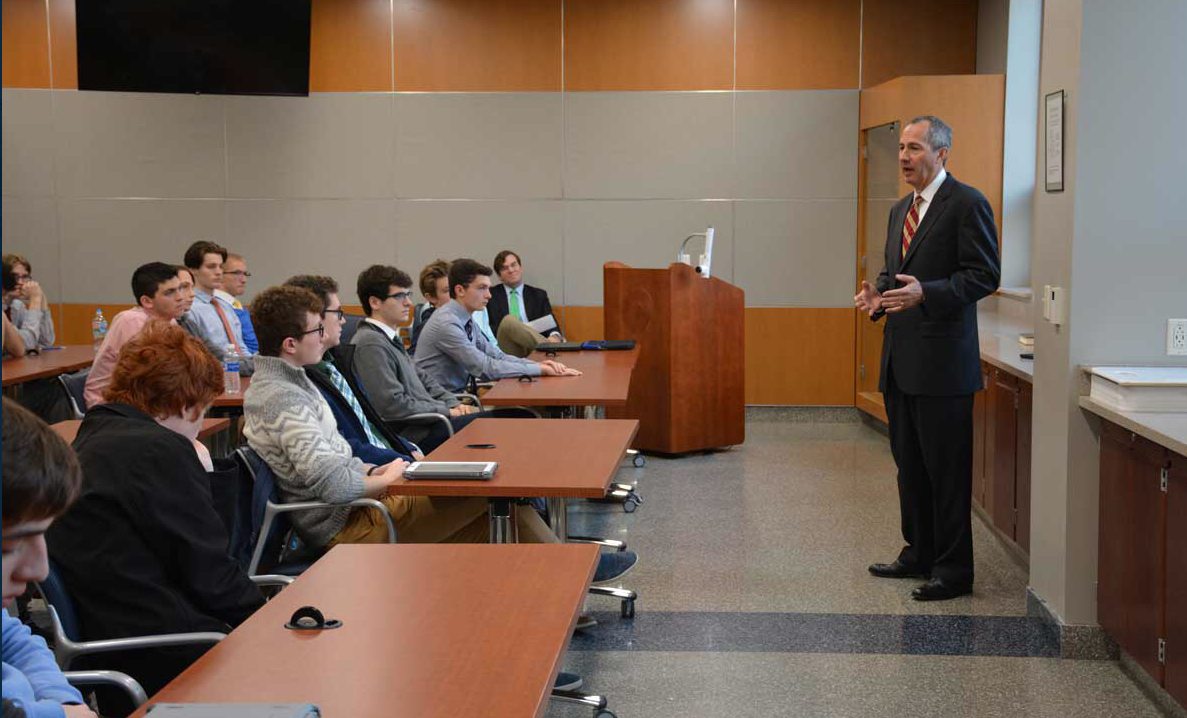 The Brother David S. Baginski, FSC Scholars Program is a two-year program for juniors and seniors with a focus on scholarship, citizenship, and discipleship. These three aspects are currently inspiring many sophomores to begin their applications to the program.
The Scholars program, or just "Scholars", as it is widely known, offers "intellectually stimulating curricular and extracurricular activities." Students who are admitted into the program will take two courses. The first, Junior Seminar, taken (naturally) during junior year. This is a level 5 course that uses primary sources and literature to expose students to questions of ethics, culture, debates, and philosophical questions. The class is discussion-based and is led by Mr. Allen. The next class the Scholars take, in senior year, is Senior Thesis. This class, taught by Dr. Costa, leads students through a year-long research project that must be completed to graduate from the program. This project, called a thesis, is an ethical argument in response to a motivating question or issue.
Both years of Scholars are enrolled in a class called the Scholars Forum. This is a class that "allows students to engage in active enquirer and cultural explorations beyond the traditional classroom setting." Scholars will take trips out of school to experience culture around the Pittsburgh area. This forum provides an opportunity to become integrated with the culture in the area.
Other than the Scholars Forum, other extracurriculars are available. All juniors in the program are required to take a service trip to West Virginia to help poor communities in the Appalachian area. Another trip, which is optional, is for both classes. This trip will be to a major, cultural, American city, such as Washington, D.C. or Boston, where students will tour universities and places of culture in the cities. The last trip that a Scholar can take is the study abroad opportunity offered over the summer. Each year, a Central faculty member coordinates, in cooperation with Mr. Allen and Dr. Costa, an immersion trip to a different country. Some examples of these have been Mr. Rooney leading a trip to England and Scotland, which looked into literature in the area, or Dr. Costa leading a trip on the arts and religions of Italy.
Applications to the program for the 2019-2020 school year began on December 5th, when a group of 40 sophomores attended an informational meeting about the program. The application process is highly selective, with many prerequisites. Along with the ones detailed in the program guide, Mr. Allen says that students should want to "write well, convey info about themselves, and ask good questions." The applicants will have to provide two recommendations, write an essay, answer a set of questions, provide a writing sample, and provide a copy of their transcript. The application deadline for this year is February 1st, 2019. Once this is completed, the Faculty Advisory Board and the two directors, Mr. Allen and Dr. Costa, will review the applications and invite applicants to an interview. The new members will be selected in mid-March.
To pick up an application, visit the Scholars Room: room 111.
The Scholars Program Guide, as well as applications and information about the program can be found here: https://www.centralcatholichs.com/pages/brother-david-s-baginski-fsc-scholars-program