An Interview with Bishop Zubik: Six Months After the Tree of Life Shooting
Michael Byrne, Staff Writer
May 13, 2019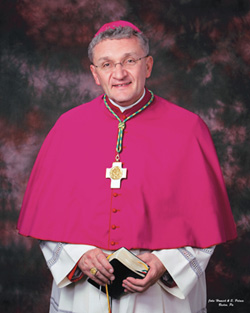 On Sunday, October 27th, 2018, a man armed with an assault rifle entered the Tree of Life synagogue in Squirrel Hill, not too far from Central's campus, and opened fire on people worshipping. Eleven congregants were killed and six people, including four police officers, were wounded. People with governmental power from local to federal spoke out about the tragedy: "The way that we responded to the (Jewish) community at that moment was something that was not experienced in the past with crimes of anti-Semitism. It was recognized and appreciated by the people of Israel," said Pittsburgh mayor Bill Peduto from a mayoral meeting in Israel. He later visited a 9/11 memorial in Israel where a new monument was added to remember the Tree of Life tragedy and an olive tree was planted with Peduto's help.
President Donald Trump added, "This wicked act of mass murder is pure evil, hard to believe and, frankly, something that is unimaginable, there must be no tolerance for anti-Semitism in America or for any form of religious or racial hatred or prejudice." A few weeks ago marked 6 months since the incident that transpired at the Tree of Life. To further understand how we students at Central Catholic could relate to the situation and continue to support our community, I turned to the head of the Diocese of Pittsburgh, Bishop David Zubik, with some questions.
"[I was] at a hotel near the airport and there were about 1,000 women that were there and we were almost near the end of mass [when] Fr. Nick told me about the shooting. At that particular point he told me that there were 8 people thought to be killed so we asked everybody…to have about 10 minutes of silence. I think one of the most profound parts was that after the Mass was over, one of the women that was there said "My husband always goes to that particular service"… she didn't call me until about 11 o'clock to tell me that her husband was killed and that made it even more real."
Bishop Zubik continued with, "It was surreal in the sense that hearing that kind of news in Pittsburgh was so shocking and to hear that about her husband, whom I always knew, made that even more real for sure. I knew I wanted to stop to see Rabbi Bisno because he and I are good friends and I was worried about him even though that isn't his congregation, but I was worried about what was happening and I could imagine that they were having their Sabbath services as this was going on. And then I did go up to Squirrel Hill because I have a good relationship with the Jewish people and it was eerie to be there with so many people trying to take in the shock. For me, it was similar to what I felt like as a 13-year-old boy on November 22nd, 1963 when President Kennedy was shot and I was a freshman in high school. It was the same kind of thing, there was a stillness there that captured the seriousness of the moment," Bishop Zubik said, recalling the day of the tragedy.
Bishop Zubik asked all parishes to take up a separate collection to raise money for the Tree of Life community. "…we received more than a quarter of a million dollars from people in the diocese who wanted to support the Tree of Life community. So I think that was a visible way in which people tried to express what was in their hearts." Along with the almost $250,000 from the Diocese of Pittsburgh, the Tree of Life received $10 million in total donations within the first 3 months following the tragedy.
When asked about what people our age can do to help our community grow and blossom today, Bishop Zubik said, "I think that folks of your generation have a natural talent to not let barriers be built. You're very free of pitching in to be of help. I think in so many ways that your generation gets a bad wrap to say that somehow maybe your generation isn't concerned about what is going on in the world around you. I don't see that at all, I see just a freedom to be there and to be of help. I think that whatever could be done to encourage that, especially when people of your age have leadership skills, use those skills to continue to call people to help especially when tragedies like this happen."
To close our interview, Bishop Zubik spoke about Pope Francis's words at World Youth Day in Panama earlier this year: "What I liked about what Pope Francis had to say was that you're not going to be leaders down the road, you're leaders now. I think that that's so important that we don't let present opportunities slip by when we can do a lot of good things. I think that he was right on target when he said that sometimes it can be offensive when people say you can be a leader in the world in the future but no, you can be a leader right now because you have gifts and talents that can make a real difference."