NCAA Tournament in Pittsburgh
Those who were lucky enough to hunt down a ticket for Friday or Saturday's games were sure in for a good game. Pittsburgh was selected as a hosting city this year for the NCAA March Madness Tournament, for the first time since 2018.
Pittsburgh is one of eight locations selected for the first and second rounds of the tournament. These venues include KeyBank Center in Buffalo, N.Y., Gainbridge Fieldhouse in Indianapolis, Dickies Arena in Fort Worth, Texas, Moda Center in Portland, Ore., Bon Secours Wellness Arena in Greenville, S.C., Fiserv Forum in Milwaukee, and, Viejas Arena in San Diego.
The tournament coming to Pittsburgh has some major perks. The economic perks from tourism and direct spending are great for the city, especially after the Pandemic slowed down tourism in Pittsburgh.
Between the teams themselves, the fans, media members, game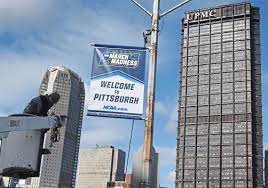 officials, and NCAA representatives, tens of thousands of people come into town to eat at restaurants, shop, enjoy the nightlife, stay in hotel rooms, visit various attractions and pay for parking.
In 2018, the last time Pittsburgh had NCAA tournament games, there was $8.36 million made in direct spending money.
The first match-up that was played at PPG was between Loyola Chicago, a 10th seed team with a record of (25-8) during the regular season, and The Ohio State,  a 7th seed team that recorded a ( 20-11) season.
Though Ohio State was favored to win, the margin was very small between the two teams, intriguing spectators for an exciting and close match. Ohio State ended up winning the game with a final score of 54-41, beating Loyola.
The second game was the Chattanooga Mocs vs Illinois The Fighting Illini. The Mocs were in as a 13th seed playing Illinois, a 4th seeded team. Illinois was too much for the Mocs to handle and ended up winning a very close game 54-53.
The last first-round game that was played was Houston vs UAB. Houston, being a perennial powerhouse, was awarded the 5th seed while UAB was a 12th seed. Even with UAB momentum going in the tournament with a winning streak, they were handily beat by Houston 82-68.