Aidan Madjerich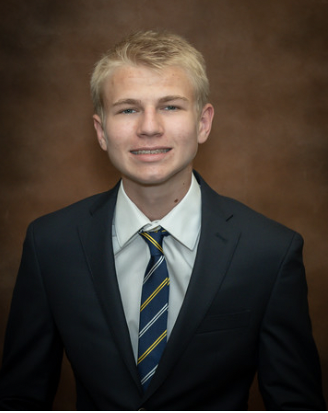 I interviewed senior Aidan Madjerich to ask him what his plans were after Central. Aidan has been active on the soccer team and in the Baginski Scholars Program. This year, Aidan worked on a senior thesis that focused on cryptocurrency.
What college are you going to?
George Washington University in Washington D.C.
What are you planning to study?
I plan on majoring in economics. I'm not sure about a possible double major or a minor just yet. 
Why did you choose that college?
I love the campus's location (D.C.), and the university has great programs for my field of study. It will be nice to have a bunch of interesting buildings around me with a lot of history, like the Smithsonian museum or the Capitol. For me, it just felt like a good fit.
What are your foreseeable plans after college?
I'll probably work in finance or a similar field. I'm not 100% certain, though.
What is your fondest memory of Central Catholic?
When Mr. McVeigh sent out an email to the entire school freshman year, and my classmates responded with funny lines or memes. That was hilarious. A lot of hilarious stuff happened our freshman year.  Outside of school, I'd say the football games.
What is your favorite class that you took?
Mr. Lloyd's AP European History. I found the subject very interesting, and the way Mr. Lloyd taught was really helpful and engaging. Mr. Lloyd could go in to depth in about every topic. It was amazing to see how much knowledge he had.
If you could change one thing at Central, what would it be?
We should have more dress down days. I think we could do with 1 every week, probably on Friday. It's nice to have a break from the dress code every week.