Joe Stern
An interview with senior Joe Stern:
1. What are your plans after high school?
I'm going to the University of Virginia in Charlottesville. A lot of family on my mom's side went there so they were pretty happy when I told them I was going. I'm super excited.
2. What do you plan on studying and why?
I'm planning to study English, but I'm basically undecided. I know I want to major in something in the humanities since I'm really passionate about that stuff. I also want to minor in something science-related however, maybe psychology or biology.
3. Why did you choose to go there?
It's a really historical college and has some great humanities programs. Everything I've heard about it is positive. People say that UVA has some of the happiest students in the country and when I visited people just seemed to really love being there and doing what they were doing. Super nice too. Apart from that, the campus is absolutely beautiful, and I'm really looking forward to spending time in the Charlottesville area. I hope that I can spend a lot of time in the Blue Ridge Mountains.
4. Do you have any foreseeable plans after college?
Whatever I end up doing I hope that I like doing it. I intend to go to grad school and maybe then even go on to get a PhD. I might take time to travel to a foreign country and try to become fluent in another language too. Jobwise, I think I could see myself getting into the news or some investigative journalism. Who knows though, I have no idea what I want to do.
5. What is one of your fondest memories at Central Catholic?
Some of the fondest memories I have are probably through the Central rowing team. Whenever we traveled overnight for races or stayed at our coach's lakehouse I had a great time.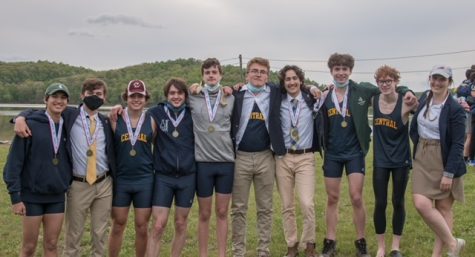 6. What Is your most favorite class you took at Central?
AP European History with Mr. Lloyd or AP Language and Composition with Mr.O'Connor. Sadly none of them are here still. Those guys are the smartest people I know. European history hits a sweet spot in my heart, everything about it is just so cool. Mr. O'Connor taught me the most out of anyone though. Just a great guy in general to all of his students and would do anything to help you out.
7. What do you think you will be remembered for?
I hope people remember me for being kind and smart. I hope I helped some kids find out what they are interested in and get involved in activities. It would be awesome if people remember me as a big brother figure to them, especially some of the underclassmen. I think I act as a role model to a lot of people so that would be dope.
8. If you could change one thing at Central before you leave, what would it be?
The dress code. It frequently gets uncomfortable with hot weather and I just never really felt more professional or more focused in it. I remember sometimes when I got so hot in class I actually couldn't pay attention. Also, the new sweater policy is a bit over the top and really is annoying to suddenly have to switch to.