Nick Chirumbolo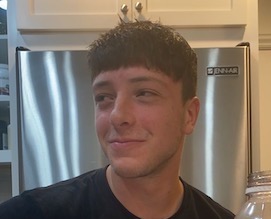 Nick Chirumbolo has gone to Central Catholic for four years and he has loved each year he really enjoys Central Catholic and the memories it has created for him but it is time for him to start a new chapter of his life somewhere else.
Nick will be going to the Ohio State University for engineering it was a tough choice for him to make sense of the college being far away. He is excited and also nervous to see what will happen and how he is going to handle all the changes.
But he is ready for the new changes and new friends he will make. This is also a big part of his future because he wants to work at a car company with his engineering skills.
Cars are something that has always interested him at a young age and he always wanted to work on them. But he is going to miss Central Catholic. Nick has made many memorable memories like going on a trip to Myrtle Beach with his baseball team and getting to relax and hang with his friends each day.
On the trip, Nick and the baseball team would play baseball, laugh, and enjoy each other's company while at the beach. Another great memory Nick has made at Central Catholic is Spirit Week where there is great food to enjoy and games to play with all his friends at the quad are the things Nick's going to miss the most about Central.
For Nick's words of wisdom, he said to "never give up" even though it's something everyone should do and always says no one really ever does it but if the effort is put forward to not giving up you can achieve a lot of goals in life